Jazz Programming
Hit-Mix 88.9 WEIU is pleased to have two hours of the best Jazz Music every Sunday. Jazz Most Wanted is at 10 a.m. and The Jazz Scene is at 1 a.m. Sit back, relax and enjoy two hours of great jazz music.
---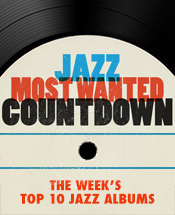 Jazz Most Wanted is a production of WUCF-FM in Orlando, FL. WUCF is located on the campus of the University of Central Florida. Host Robyn Austin counts down the week's top 10 Jazz Albums.
Austin is a music lover of all genres, but Jazz is the one that really makes her heart sing! She invites you to lean into the radio and enjoy an hour of some of the best music around on Jazz Most Wanted. She is excited to be a part of the family and to share this incredible music with you.
---
The Jazz Scene comes to us from Quality Radio Productions in Geneva, NY. Every week, The Jazz Scene offers listeners an hour of the best in classic and contemporary mainstream Jazz with your host Jake Longwell. Listeners can expect to hear classic sounds from the likes of Miles Davis, Charlie Parker, Benny Goodman, Ella Fitzgerald, Bill Evans, and Django Reinhardt, among many others. The show also features fresh, up and coming singers and instrumentalists who keep the Jazz tradition alive in the 21st century. If you love Jazz, you're sure to enjoy the mix of music on The Jazz Scene.