WEIU - The Kids' Choice!
Each week, WEIU-TV broadcasts more than 40 hours of quality PBS Kids programming. These programs not only entertain, but also focus on literacy development, healthy lifestyles, and positive social skills.
---
Partnership with CCR&R
WEIU Educational Services
Ke'an Armstrong

Educational Services Coordinator
ksarmstrong@eiu.edu | 217-581-7193

To Schedule Literacy Visits:

Penny Krabel

Quality Counts Literacy Specialist
prkrabel@eiu.edu | 217-581-6698
WEIU has engaged in a collaborative effort with Child Care Resource and Referral (CCR&R) to provide training and resources for teachers, parents and child care providers to extend the learning power of the children's programming we broadcast. Our services include:
Community-based projects such as child care provider literacy visits.
Health and literacy outreach.
Book and literacy kit distribution programs, events, and more.
CCR&R is part of the Illinois Network of Child Care Resource and Referral Agencies and is funded by the Illinois Department of Human Services.
---
April 19 - Daniel Tiger Meet and Greet!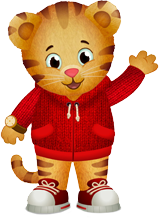 Bring your kids and your cameras to Cross County Mall in Mattoon on Saturday, April 19, from 10 a.m. until 2 p.m.!
As part of WEIU and Chid Care Resource & Referral's annual Festival of the Young Child, you're invited for a meet and greet/photo opportunity with Daniel Tiger of Daniel Tiger's Neighborhood!
In addition to the meet and greet, activity bags will be available to the first 300 children in attendance. There will also be a story hour offered every 30 minutes courtesy of CCR&R.
This event is underwritten in part by First Mid-Illinois Bank and Trust.
---
Thanks to Our Underwriters!
The following companies/organizations make our educational programs possible!