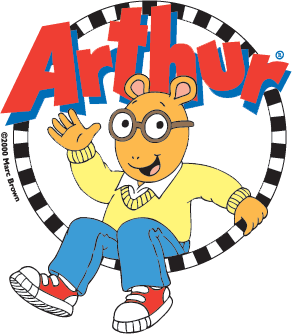 The Arthur theme song encourages children to "learn to work and play and get along with each other," and that is just what the series website does --– and soon it will do more! We're happy to share that the Arthur Family Health Project website will launch in early 2014. What is the Arthur Family Health Project? Glad you asked!
The Arthur Family Health Project is a destination website housing Arthur's rich library of health content, with specific chapters devoted to the following topics: asthma, peanut allergies, nutrition, fitness, and resilience. Each chapter will feature background information, along with web and print resources, parent-child activities, parent and kid-friendly videos, and interactive games and tools.
These resources are designed to help parents and teachers talk to children about the health issues they face—particularly chronic ones—and to help siblings and classmates understand these issues. The site is designed to promote discussion; it is not meant to replace a family's relationship with its health care provider.
More information about the new Arthur Family Health Project website will be coming your way soon, including talking points and materials you can share with the educators, partners and families your station serves.
This addition to the Arthur website offerings is great, but the site as it currently stands is full of great tools and resources. We've heard from many stations asking for materials that can compliment events, educational activities and outreach initiatives so we've put together some links to resources currently available on the Arthur website.
---
Helpful Links