Jeff Owens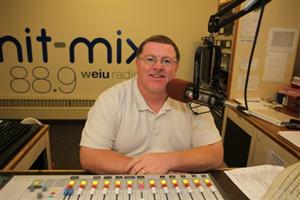 Major: Communication Studies (EIU '88)
Hometown: Mattoon, Ill.
Years at Hit-Mix: 8
Shift Time(s): Station Manager
Favorite Hit-Mix Memory: Getting hired at WEIU and working with EIU students.
Words to Live By (Favorite Quote): "And I still stand firm. You get what you put in. And people get what they deserve." - Rob Ritchie
Hobbies/In My Free Time I Like To: Watch the Pittsburgh Steelers and watch my kids play sports.
Favorite Artist/Song: Hayes Carll - "Willing to Love Again"; Def Leppard - "Let it Go"
Random Fact: If you are my friend, it is forever. Good times or bad, friends must remain strong.