About the Car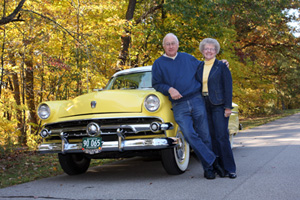 When we were looking for a new location for our 2007-2008 photographs, we were at a loss. In 2006, we found a wonderful sunflower field in which we could take photos. The only problem: That sunflower field was now a corn field! We asked around and our photographer and coworker Jana Johnson suggested this great old yellow car, owned by her friends Gus and Marie King.
The car is a 1954 Ford Victoria, which is virtually the same car that Gus and Marie owned when they got married in 1958, even the same color. They found this one about three years ago in Denver after searching for two years.
On a chilly October day, we met the Kings with the car at Fox Ridge State Park near our home base of Charleston, Ill. The colors were just perfect for photographs. We had such a good time ... and they even let us drive the car for our opening and closing shot on the show!
I was a little nervous driving the car, knowing what it meant to the Kings. When we were done filming, I stopped the car, but Gus told me right away: "Don't put it in park." I still don't know why I was able to leave it in drive, but it didn't roll away!
In 2009, Gus and Marie were generous enough to drive the car in the EIU Homecoming Parade with Kate and I walking alongside it. You wouldn't believe the many shout-outs of "cool car" from little kids, college students and everyone else on the parade route. It was certainly one of the best looking and most striking cars in the parade. Gus and Marie said they had a great time and we hope to make it an annual tradition.
Thanks Gus and Marie for sharing the car with Heartland Highways!